Virtual Volunteering?
If you would like to work with us but are unable to be here in person, there are still lots of things you can do to help!
Whether it is simple things such as engaging in our social media posts to help us to get to the top of the page or you want a more in depth volunteer experience which can result in valuable work experience and a reference to help in your career we would love to hear from you.
As we are run 100% by volunteers we are always in need of assistance with social media, fundraising and marketing, to include content writing, responding to messages and engaging with our followers.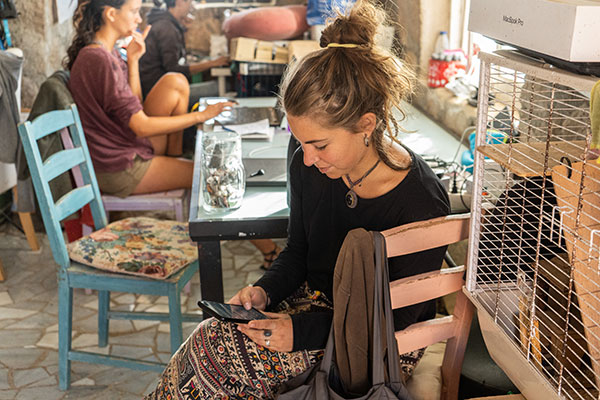 Things that may seem pointless but mean the world to us:
Whether we like it or not, Social media is a huge part of the current world we live in. Here we rely on social media to fund our sanctuary. Almost every euro we have raised has come from social media directly or indirectly. Through donations online, paid ads on YouTube or visitors who found us via social media.
I will say that again. Without social media we would not be here!
So every comment, like and share which may seem pointless is not to us. It takes you a couple of seconds to engage in our posts but if everyone couldn't be bothered to do it algorithms would not share our content, people would not see us and we could not afford to rescue anymore animals.
So every like, comment and share means the world to us. Your engagement really is what keeps us alive.
Also we are paid directly from adverts on YouTube, so every time you watch our videos (or leave them running as you clean the house or make dinner) we directly get paid. Easy right? Just by watching our videos you can directly help animals.
So these are just simple ways in which you can help us from the comfort of your own home or whilst sitting on the tube on the way to work!
We often post fundraisers and pleas for help on social media and need you to help us reach a wider audience!
Are you an influencer or a social media expert
We want to collaborate with like minded people so if you are an equine, animal or sustainability influencer, please do get in touch if you could share our sanctuary with your followers. Or if you are an expert we would love to learn from your skills.
We also offer free holidays in our yurt in exchange for collaborations on your successful platforms or if you have skills in the field that could help us grow our followers.

Work Experience with a difference?
Thanks to the internet and social media, you can be part of THR from anywhere in the world. We are a friendly, passionate team and working with us is so rewarding. Are you hoping to practise your skills to kick start your career in the digital sector?
Digital marketing, social media, fundraising, content writing?
We are happy to have you as part of the team, get involved as much as you can. Learn from us, practise your skills and do a great thing for a great project. You will gain great experience, we will offer support with everything and we will also provide job references and you can put the voluntary work you do for us on your CV.