Emma
Owner - Horse Fanatic
General Animal Crackers Chica
---
Emma, (32) from an animal loving family in the UK, grew up with animal friends instead of humans and an imaginary horse that looks like Shanti. A childhood spent rescuing bugs and frogs whilst begging parents for horse riding lessons. Grew up to study horsemanship, small animal veterinary nursing, animal first aid and various horse communication or barefoot short courses. With a lot of experience of being self-employed, from running a charity shop for a horse sanctuary in the UK, dog walking and dog training businesses and dancing. Because there has to be one interest that isn't covered in dog hair. All spare time is spent walking dogs or expanding knowledge on animal welfare and horses reading books and watching Youtube videos. Still has more animal friends than humans but has real horse friends and no longer imaginary ones!
A dream into reality!
"What we do at horse sanctuary is hugely necessary and incredibly rewarding. Large numbers of animals are used in Tenerife for agriculture and tourism. Then often find themselves unloved or neglected once their working use comes to an end. It's a pleasure and a privilege for us to rescue, re-home and care for animals in need. But medicines and therapies are costly and in constant demand. And our need for feed, shelter and homing animals never ends.
Edo
Owner - Craftsman - Builder
Self Taught Farmer and Cowboy
---
Edo (34) from a small city in Italy having never had a pet before meeting Emma but always dreamed of retiring to a farm and living self sufficiently with a pack of dogs. After leaving school, developed a background in building, customer service, entertainment and having a natural skill for languages, speaking six of them. The couple met while Emma lived on a horse centre in Fuerteventura and Edo was on holiday. Bonding over their mutual dancing experience they worked with a stage show together for a year before starting to plan this project. Soon finding out that they had the perfect ingredients to develop it together. Edo realising his dream to have a farm far before retirement age, but the work has just begun.
"We've already learned so much from our adventure so far. We've learned to plan and register, then build up from nothing for us and our animal shelter. We've had to understand the business of fund-raising and running a charity. Solving problems by using solar-power and ecologically water systems. We've gained the help from generous local people and visitors to Tenerife. To create a team of people that work for the love of the animals and not for profit. Getting their hands dirty or by donating their hard-earned money when they can."
---
Here you will see an interview with Emma and Edo. You can see their backgrounds, their thoughts and plans for the future.
Emma and Edo may be the couple behind the project, but without their amazing team of volunteers they certainly couldn't do it alone. Here is some of our current team members that keep this place running and growing.
Kat
Emma's "right hand man!"
Managing the horse team and languages are her thing
---
Kat came to stay with us for 2 months, which turned into 3. After back to normal life for less than 1 year, she came back to us for good. Now we can not imagine her to not be here. She manages the horse team, takes care of the horses. Manages the German following and is the number 1 volunteer to show you around when you come for a visit in several different languages.
Andrea
King of the compost
Managing the gardens and composting with his team.
---
Andrea came to us for 3 weeks, where he met Kat. Now they came back as a couple to the place they first met. Managing the team of compost volunteers and gardeners. Keeping the place looking beautiful and growing our gardens. Experimenting with compost and creating a perfect product to eventually sell.
---
Richard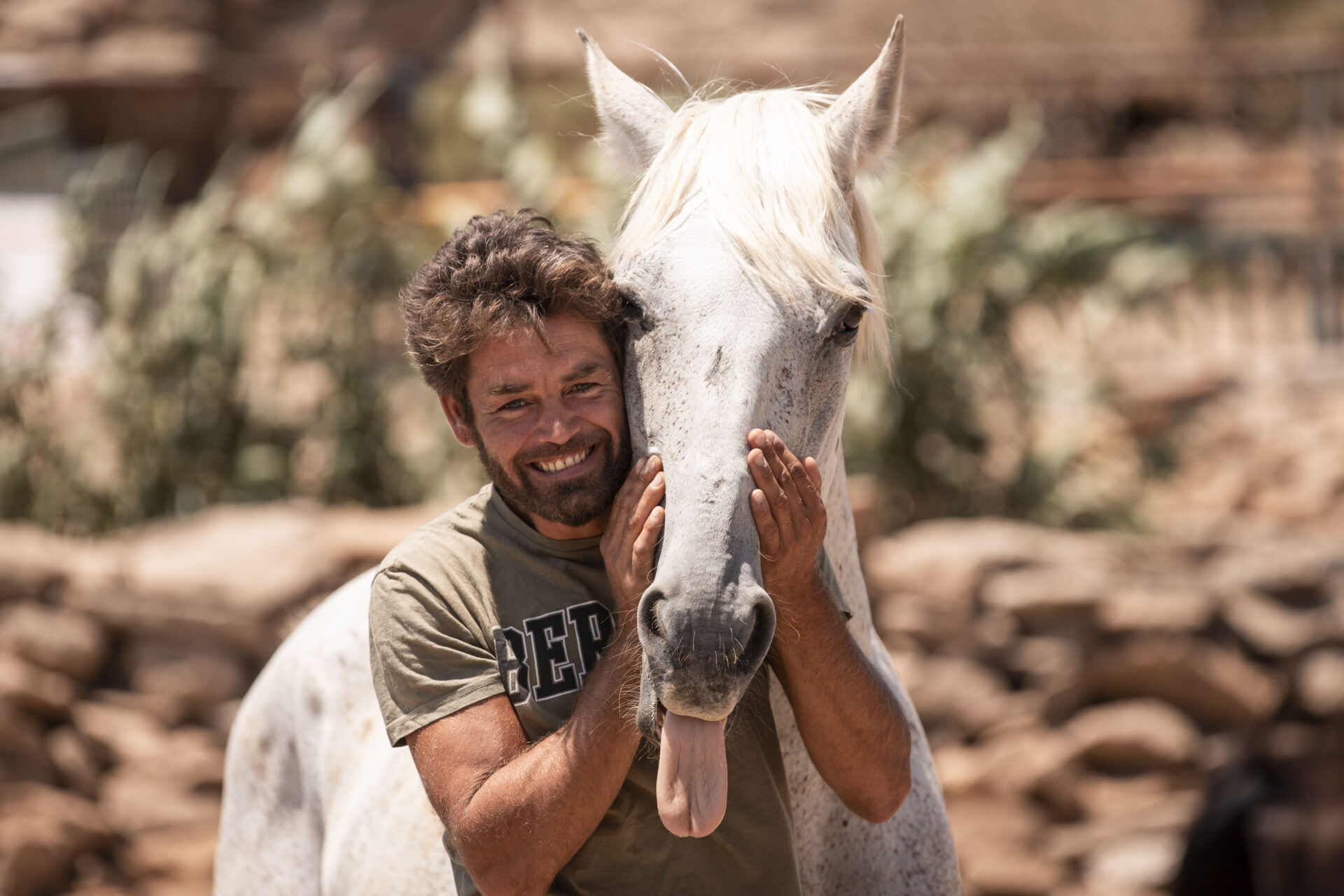 Weekend horse carer
Managing the weekends, caring for the horses and handyman
---
Richard is quite new to the team, but a strong vital role he has. We didn't realise that we needed a horse man in our horse team. Not only does he manage and care for the horses at the weekends, he fixes everything that breaks. Broken fence post, no worries! Broken slow feeder.... the horse man has fixed it!
Will
handyman and entertainment
carpentry and keeping people happy is his thing
---
Will came to us as a work away well over a year ago, he loves it so much that he has no plans to leave. Will is very skilled with wood and has a great eye to make things look good even built from recycled materials. He is responsible for almost all of the animal enclosures. Also, a great asset at welcoming the new volunteers and making them feel comfortable, entertains people with his jokes and stories over one of his home cooked curries.
Adrianna
Smaller animals and influencer manager
Organising, taking care of the animals and people is her thing.
---
Adrianna joined the team quite recently, less than 3 months and immediately became a big part of the finca family. She takes great care of all of the animals that are not horses, checks daily for them and trains all the newer volunteers. She also keeps the yurt full of influencers that are helping to grow our online following. She takes care of the people and helps with anything they may need.
---
Lea
Day to day horse carer and photographer
feeding, caring, training horses and photography is her thing
---
Lea joined the team very recently but came in with a bang. Her passion and love for horses is perfect for our finca life. She works with the horses keeping them fed and cared for. She also trains them with liberty and brings out their relaxed happy side. Not only is she perfect with the horses she comes with an added bonus of amazing photography skills and many of the website photos are from her.
Simon
All round helper
Building and helping everyone is his thing
---
Simon has been with us for over 1/2 a year and is a great addition to the team. He always has a smile and everyone loves working with him. He keeps things organised and helps to build everything and anything that is needed. Since being here he has become an all round handy man and a fancy tiler!
Lola
Animal feeder and social media girl
Social media, digital marketing and animals are her things
---
Lola is actually one of our newest volunteer but with her easy going personality she fits right in immediately and has been touched by Tenerife and wants to stick around, we are very fortunate to have someone with her skills taking over our social media world optimizing and helping us to grow digitally. She also works with the animals keeping them clean too.
Last but certainly not least we have our huge team of volunteers, we are totally staffed by unpaid volunteers from all over the world, of all ages with a range of skills and expertise. Animal care, building, gardening, social media, etc. All who give their time to expanding our lovely finca and taking care of the day-to-day tasks. For more information on our volunteering programme you can check out our page volunteers. Or check our work away profile to read our lovely reviews workaway