Freegan
With the rising cost in living and the unavoidable fluctuations with an income purely from donations, it simply isn't financially feasible to feed 40-50 hungry volunteers every day. So, while 'dumpster diving' has been made illegal in many countries all over the world – we are grateful to report that here, it isn't! We just prefer to call it freeganism; meaning we will eat just about anything to stop it from being wasted.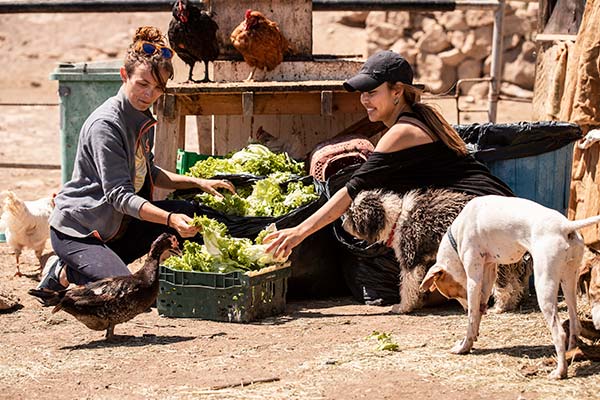 We've established a relationship with a supermarket and a fruit and vegetable distributor on the island that allows us to take away all of their damaged, ugly or out of date stock. With a team of 3 volunteers collecting the waste food daily and working full time to sort through the best/saveable and compost it is a time consuming and messy job. However, something we certainly could not survive without. Some days we have trays of papayas, and all kinds of rainbow plate worthy produce. Other days it's potatoes with a side of potatoes. But no matter! Mostly, we are grateful to be able to save this incredible food from going to waste. This also means that 99.9% of the time our volunteers eat for free which really is the secret to being able to run such a big project on such a small budget. Secondly many of the smaller animals such as guinea pigs, chickens, ducks etc are eating food that is fresh, tasty and completely fit for human consumption and again totally free. It also means that we don't need to purchase too much extra food for them when so much of their nutritional needs are already covered. Win win!
With so much food waste we do not stop here. After feeding our team of volunteers, as many animals as possible we still have a surplus of perfectly usable food that we are trying to save from waste. So we are proud to say we have registered as a local food bank so that we can distribute food to local low income families/other animal sanctuaries. After all of the usable produce has found a home the remains goes into the compost. Creating a full sustainable cycle.