This week's Tips for Equine Rescue comes from a guest blog host. Harsh Arora, a volunteer from across the web, who has some useful advice for us all.
Equine rescue is a daunting task, that is filled with sorrow for the rescuers and others involved. But it has its silver lining which is the love an animal can return to the rescuers, it might be a gratuitous cuddle or a heart-warming look. Running an animal rescue shelter requires much more than just strong will or hard work. Essentials such as feeders, medicines, volunteers, money, and most importantly support from the community and those around you. Here you will find my 10 top tips for equine rescue centre.
1. Finances
Any rescue shelter would need big finances to function at full potential. Many of the existing shelters though run on a restricted budget, where many of the workers compromise on various expenses including their salaries for the betterment of the shelter and the animals. (We run solely with volunteers)
One could reach out to various animal welfare programs or seek the support of a benefactor. (We have not been successful with this yet, but continue to try)
A steady flow of cash should be at the top of the priority list, as animals are expensive.
2. Communal Support and Volunteers
A shelter is a non-profit company that works for the aid of animals. Any company needs workers and a supportive community. Animal shelters require lots of people working in various shifts tending to any animal's needs.
The best way a rescue shelter recruits people is through volunteering. Hundreds of thousands of people might wish to volunteer, it's just about reaching the right people, and social media is a massive help to inform potential volunteers.

3. Animal Food and Feeders

The food eats the biggest part of the budget of any rescue shelter. Understandable that a healing equine body needs a lot of nutrition. A rescue shelter must be stocked with good quality forage for the horses that provide nutrition. If there is a lack of forage in quantity or quality, hay can be used as a horse supplement. (For us food does not grow on the island, so we rely solely on forage bought in from the mainland, adding a lot to the cost and compromising the quality)
According to research done on various equine shelters, a horse requires at least 2% of its body weight in forage a day (up to 20 kg).
Feeding the horses will require feeders, you will also need to make sure the feeders are clear of any infections such as fungus, mould, faecal matter.
4. Water and Nutritional Intake

Equines must have access to clean, drinkable water around the clock. If the shelter is in an area that is prone to snowfall, you will also need a defroster to keep the water drinkable. (not a problem for us here on Tenerife)
Equines need a nutritious diet, if you feed horses in a common area you must make sure every horse's nutritional intake is sufficient according to its age, size, and condition.
When the mares are pregnant or lactating, they will need more care and nutrition intake.
5. Shelters and Fencing
In a rescue horse sanctuary, you take the equines for walks and exercise by playing in an enclosure with lots of space. (sadly not always an option, such as in our case on the Canary Islands) The area they are left to roam about all the time must be safe and secure, so they cannot get injured. They also need a place to rest and feel safe to sleep at night.
Investing in shelters that have roofs and protect them from extreme weather conditions is essential, every equine needs a large enough space to rotate its body, lie down, and move freely. Along with other horses, as social interaction is necessary for equines.
Fencing a large enough area in which horses can roam about and get plenty of exercise is a must, as exercise helps in the recovery process for healing equines. (see our plans for our track system, which is an ideal way to keep your horses when you are limited on space)
6. Cleaning Essentials
Cleaning supplies should be ever-present as they are always needed. This includes bleach, mops, towels, shovels, gloves, detergent, manure picks, rakes, wheelbarrows etc. They're also often asked as donations by rescue shelters.
7. Medicinal Supplies
An effective animal shelter should be loaded with first-aid kits and various common veterinary medicine that may be required as a quick response to any emergency. Anti-parasitic, anti-fungal drugs, de-wormers, bandages, wound powder and disinfectants
are some of the important medicine a shelter requires. (Also important is someone to have knowledge on first aid and basic health problems with equines)
8. Other Equipment
Most horses in a shelter require loads of exercise and regular visits to the veterinarian, transporting equines can be tedious due to their size. Saddles, bridles, halters, lead ropes will be required to transport the equines to the veterinarian or for adoption visits. Blankets and other clothing should also be available for the animals during wintertime that can be used to provide a comforting environment for the equine during harsh weather conditions. (much of this does not apply to us, as most of our horses are not rideable, and we rarely get chances to adopt horses. Neither do we need rugs for harsh weather conditions. However, we do need a constant supply of hoof tools, grooming kit, clickers and targets so same rule applies)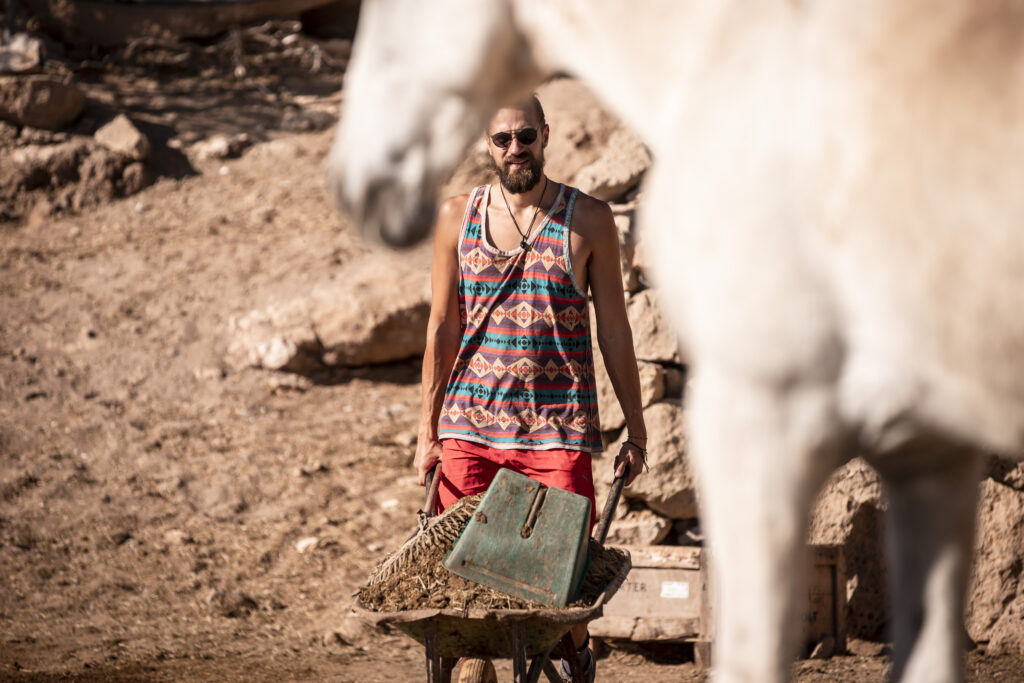 9. Play Toys and Office Supplies
A rescue shelter deals with many sick and injured animals daily, comforting them must be a priority, a simple thing as a little toy can go a long way in comforting a frightened animal and earning its trust.
When one thinks of an animal shelter, they mistakenly only think about the animal's needs, but at the end of the day, we are here to make their lives better. Other things you don't expect is that it is an office too needs supplies like laptops, phones,  paper-clips, pens, printers, staples to make sure the administration side of the business runs smoothly. (This is the step that I was not prepared for, I did not realise I would spend 7 hours a day inside an office to make this place run smoothly- ish)

10. Social Media Presence
Social Media plays an important role in the making or breaking of a business in today's world, and it's the same for an animal sanctuary. Promoting daily activities, sharing rescue stories, animal photos, and organizing events on social media platforms like Instagram, Facebook, and Twitter are great ways to reach the community.
An influential social media presence can create a supportive community through which a rescue shelter can receive monetary donations, feed, hay, or even sponsors which can help the shelter tremendously. (another time-consuming part I didn't realise would be such an important part, I don't know where I thought the donations were going to come from before I started this journey)
I hope you enjoyed Harshr's input to 10 essential tips in running an equine rescue. I wish we knew some of these points before we started. It may seem like a nice job and thing to do. However, there are many many factors to consider. Not only these top 10. Even with all these in place you will still need to think about paperwork, workloads, staff management, legal requirements, lack of free time, no social life, no sleep, premature wrinkles! Maybe we should do a top 10 difficulties to consider when planning to open an animal sanctuary? Let us know what you think….. would you like to read this?
Thanks again to Harshr. The writing in Italic has been added by me (Emma) to let you know a little of our personal experience in the points.
Harsh has worked in publishing and marketing since 2012. He started his career at Journal and has since worked and written for several top equestrian publications and Technology websites. Most recently, he worked in corporate marketing with a focus on strategic and digital planning. A lifelong dog, horse owner, Harsh currently writes for Stallion House. A website that provides complete details of products like saddle, girth, etc. which can provide maximum comfort to your horse. He is also a certified therapeutic riding instructor and previously managed the care and training of a 12-horse therapy herd. Harsh holds a B.SC. in Hospitality, Travel, and Tourism.